IndiGrid acknowledges that the current portfolio assets of IndiGrid and pipeline of future assets may have risks and impacts of varying significance on one or more environment and social aspects in cognizance of the geographic context, nature and scale of operations. Evaluation and mitigation of such risks and impacts also present opportunities for longer-term value creation through environmental stewardship, natural resource conservation, respect for human rights and stakeholder engagement.
In order to adequately mitigate and manage such risks and impacts, several initiatives such as adoption of ESMS framework, environment due diligence, training & awareness sessions, community help sessions,etc have been organised to inculcate the philosophy of "ZERO HARM" across levels and business decisions.
IndiGrid believes that effective management of E&S issues is fundamental to success. IndiGrid is committed towards continually improving its E&S performance by setting up and monitoring of objectives and targets, periodic audits, necessary training, engagement with stakeholders, coordination with investors, and management review.
Key Pillars of IndiGrid's ESMS framework
Miyawaki and Orchard Plantation
Through INDIGREEN - our mega tree plantation project , we have been developing a green cover of Miyawaki Forest with 50,000 trees and a 10 acre Fruit Orchard .The project is in line with our commitment to reducing our impact on the environment and restoring ecosystems.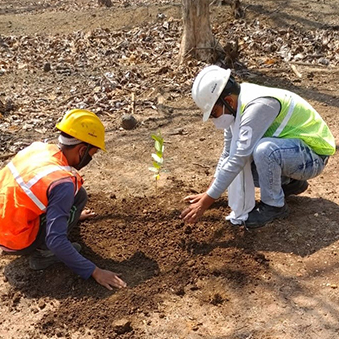 Policy Advocacy
We have been actively engaging with the regulatory bodies and the government since our listing to streamline regulations for deepening markets for InvITs. Our endeavour has been to proactively engage with all stakeholders like SEBI, RBI, IRDAI, PFRDA, AMFI etc to enable timely regulations in support of minority investor rights.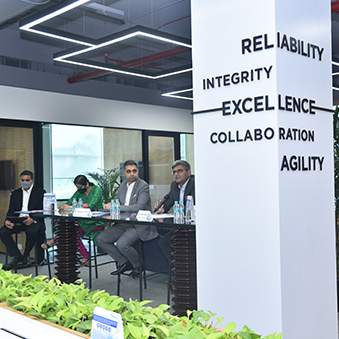 Environment and Social
We have experienced the global need of improving the healthcare system. IndiGrid under its CSR projects would emphasize undertaking projects related to blood donation camps, free health checkups, donation of medical equipment, construct buildings/wards for govt. hospitals or such other projects as may be requested by respective regional teams after considering the domestic CSR requirements.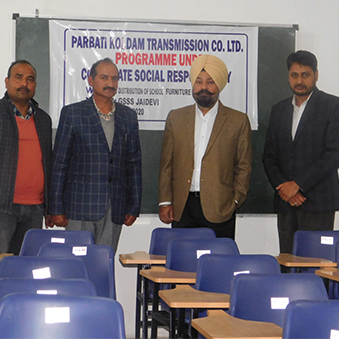 Due Diligence
IndiGrid, through an independent third party consultant, has undertaken to carry out Environmental and Social Due Diligence of its assets in accordance with the IFC Performance Standards and ADB's Safeguard Policy. This will involve identification of significance of potential risks and impacts, including but not limited to pollution prevention, biodiversity impact, resource efficiency, climate change, sustainable use of natural resources, vulnerable groups, access to resources, impact of livelihood, resettlement, cultural resources, working conditions and community health and safety etc and help to mitigate the negative impact by taking corrective action.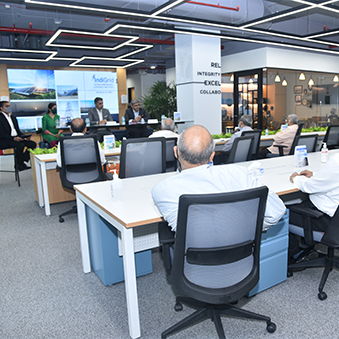 Stakeholder Engagement and Grievance Redressal
A stakeholder engagement and grievance redressal mechanism (commensurate to the nature, scale and intensity of risks, impacts and opportunities) has been established for each asset and made accessible to employees, workers, affected communities, suppliers and where appropriate, to any other interested parties.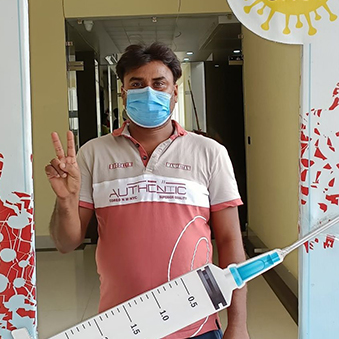 Community Engagement
Our operations are across 18 states and 1 union territory and we rely on support of local communities in enabling repairs and maintenance as and when required. We focus on active engagement to avoid ROW issues Community engagement initiatives like constructing shelter for Nomadic tribes at NRSS and Dhule approach road and sanitation facilities around the project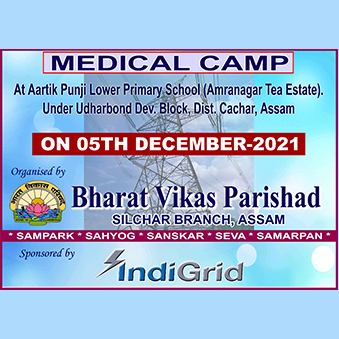 GHG Emissions
We generated 168,024 kWh units (YTD Mar-21) from our rooftop solar power plant at Bhopal and Dhule substation used for auxiliary consumption resulting in CO2 avoidance of total 138.17 tonnes SF6, a potent GHG used in circuit breakers is arrested through systematic monitoring and immediate action. We operate extra high voltage (EHV) lines at 400 kV and 765 kV which enables reduction in emissions by way of reducing losses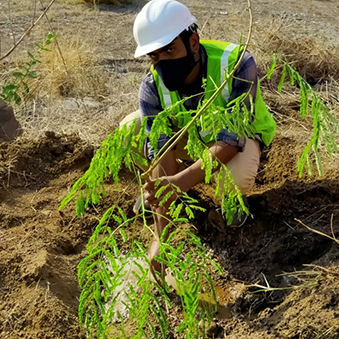 Health & Safety Initiatives
Over 95% Safe manhours achieved. Behaviour-based safety enabled proactive closure of unsafe and near miss conditions 100% of our contractors have received relevant health & safety training designed for their scope of work We continued to focus on aligning our practices with international standards.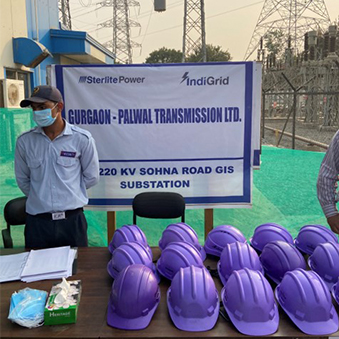 IndiGrid & its SPV's CSR Initiative – FY 22
Focus for FY 22
The nature of our business demands a lot of pruning/cutting/uprooting of trees to prevent the transmission lines from tripping due to hindrance in the electrical induction zone. In the entire portfolio of IndiGrid spanned from Jammu & Kashmir to Telangana and Rajasthan to Arunachal Pradesh more than 150,000 trees has been either trimmed thin or cut down including construction and maintenance stage.
IndiGrid while adheres to all technical and statutory requirements needing to cut down as many trees, we also are aware of our responsibilities towards nature. Hence, IndiGrid has pledged to plant equal number of trees as has been felled down across the portfolio in the due course of time. Planting the trees shall remain the core of IndiGrid and its subsidiary's focus area under its Corporate and Social Responsibility and shall be a continuous project under CSR initiative.
While green initiative remains our core area, we may undertake additional CSR measures in the following areas as per the domestic requirement of projects entities-
1. Promoting education – Education is the key for nation building and IndiGrid including its subsidiaries is determined to undertake projects related to promotion of education under its CSR initiatives. The projects shall be including distribution of stationary & books, construction of classrooms/labs, donating computers, encouragement of using technologies in the schools by donating equipment/software, etc.
2. Promoting healthcare including preventive healthcare– We have experienced the global need of improving the healthcare system. IndiGrid under its CSR projects would emphasis on undertaking projects related to Blood Donation camps, Free health checkups, donation of medical equipment, construct building/wards for govt. hospitals
3. Rural development projects – IndiGrid is determined for the development of localities we are operating in. The key projects to be undertaken under the category are Construction of local/village roads, panchayat building, police station repair, bathrooms, water-tanks, etc.
4. Promotion of national heritage, art &culture – India is a land of art & culture. Our heritages are priced possession for the entire nation. IndiGrid under CSR projects shall also keep focus towards Organizing/promoting/sponsoring events for the promotion of local heritage, art and culture.
5. Green Initiative – Plantation of trees through Miyawaki forestation and creating a fruit orchard for the yield to be utilized for community development. The benefits of Miyawaki Forestation is many folds, it not only emphasizes on A completely chemical-fertilizer free forest that sustains itself and supports local bio-diversity. It also has up to 30 times or more Carbon-dioxide absorption as compared to conventional forest. This project is called IndiGreen.
Key Personnel-
CSR Management Committee –
1. Mr. Harsh Shah - CEO
2. Mr. Jyoti Kumar Agarwal - CFO
3. Mr. Satish Talmale – COO
4. Mr. Swapnil Patil – CS
CSR Committee Representative –
1. Saurabh Singh
Proposer –
1. Mr. Sunil Jadhav – Northern Region (Transmission Line)
2. Mr. Ashwini Sharma – North-East Region (Transmission Line)
3. Mr. Najmal Khan – Western Region (Transmission Line)
4. Mr. Prakash Jena – East and South Region (Transmission Line)
5. Mr. Suman Sah – All Regions (Substation)
6. Mr. Amit Kumar Singh - PrKTCL
Major CSR Projects –
Total CSR budget for FY 22 is Rs. 266.95L. The value of projects undertaken till now (either completed or in progress) is Rs. 242.38 L (theme-wise expenditure as per below table).
Theme-Wise Expenditure
S.No.
Theme
Total Budget
Percentage of Total
1.
Green Initiative
₹ 1,31,56,667
54%
2.
Healthcare
₹ 16,26,350
7%
3.
Rural Development
₹ 33,43,596
14%
4.
Promoting Education
₹ 41,88,972
17%
5.
Art & Culture
₹ 19,23,110
8%
As per above table out of the projects pledged till now upto 70% value (Rs. 166.49L) of the projects are already completed and balance is in progress and likely to be completed before 15th March. For the balance amount, IndiGrid has also pledged a couple of special projects under its CSR initiatives to be undertaken as a continuous project.
The key projects under the designated themes are Project IndiGreen under Green Initiative under which we have planted approx. 55,000 trees across portfolio, with the highlight of a Miyawaki Forest of 50,000 trees at our Kabulpur Substation
Under the theme of Healthcare – Health camps are organized in NER and Telangana region. In addition, hygiene is another important aspect of healthcare and aligned to the theme toilet blocks and safe drinking water facility has been provided in Haryana & Orissa.
As a part of rural development, a rain shelter has been constructed near our asset PrKTCL and solar streetlights are being installed in other regions. Distribution of basic furniture and other required material to public utilities in Jharkhand.
Promoting Education is another key focus area. Under the theme basic needs of supply of furniture, stationary, etc. has been provided to govt. schools near our assets across portfolio. A special initiative has been taken to provide skill development training to tribal women in the North-East region to provide them with a self-sustaining livelihood model.
SOS village is a non-governmental and non-profit organization working for the holistic development of parentless children, women and children belonging to vulnerable families.SOS India has worked with children, communities, disaster struck and disaster-prone areas, giving hope to weary communities and families. IndiGrid has partnered with SOS India and is sponsoring one SOS Home in Srinagar.
Impact Assessment –
IndiGrid will undertake internal impact analysis on yearly basis. In case average CSR obligation of IndiGrid and its SPVs crosses ten crore rupees or more in the three immediately preceding financial years, IndiGrid and its SPVs will undertake impact assessment, through an independent agency, of their CSR projects having outlays of one crore rupees or more, and which have been completed not less than one year before undertaking the impact study.